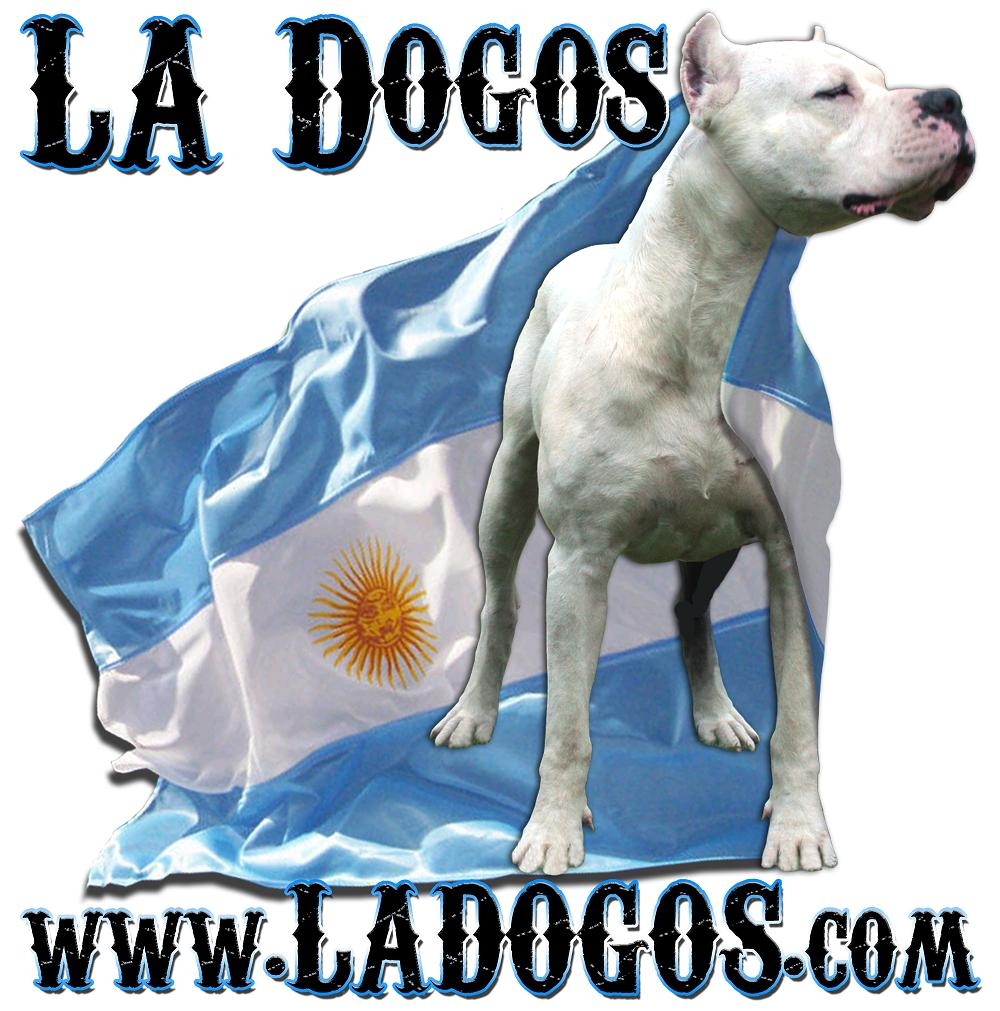 I have been talking to a man that had a hog problem on his property. The hogs have been tearing up his deer feeders and eating all the feed. So about 2 1/2 weeks ago we planned on making a hunt for the night of the 26th. I knew it would be hot but didn't plan on it being this hot. Today it got up to 107 F or 41.67 C .
Here is a picture of the temp showing in my rearview mirror.




Well since i promised him we would go hunting we went anyway. We turned the dogs loose right after dark and it was still about 92 degrees . We roaded the dogs and when we got about 100 yards from his feeder we heard them start baying. I cut De'Angelo and Recado loose to em and they had just about enough time to get about half way and the baying changed from a baying to a running. I thought this aint good as both dogos were gone and the curs were off to the races. We were watching them on the Garmin and they went about 500 yards streight away and made a few circles and then turned and parralled us for a few hundred yards. Then they made a few circles. I was hoping the dogos would come back as it was extremely HOT . At least i didn't vest them because it waas too hot. After running them for about 15 - 20 minutes I heard the curs bark just about one or two barks each then total silence. According to the Garmin it showed them to be bayed but we couldn't hear anything. They were 350 yards away and we should have been able to hear them if they were bayed. But I trusted the Garmin and told the guys that they must be caught and we needed to get around to em. So we rode the four wheelers all the way back around to try to get a little closer. We could only get about 150 yards close to em so I bailed off and started through the brush to where the Garmin showed em bayed. When I got in the briar patch they were in all i could see was the vines shaking. Still No grunting or squealing so I knew it was a good hog. When I got in there to leg it Recado was laying on the ground . I thought he was cut down at first. DeAngelo was still on the ear so I legged the hog. This tells me that the Dogos were running with the curs. As soon as I legged it, the hog shook and DeAngelo fell over flat on the ground. Recado came back up and grabbed the ear. I flipped the hog and Recado fell on the hog. I hollered for the other guys to come on in and stick the hog. After getting the hog stuck I looked and see Recado and DeAngelo was still exausted and layed out. They were overheating and really close to heat stroking on me. One of the guys had a bottle of cold water on his four wheeler so I poured half on each dog. Then he went back to there camp ond got two gallons of water and we poured it on them to get them cooled off. After about 30 minutes they were able to get back on there feet but were still a little wobbaly . DeAngelo took a lot of cuts to his chest but never let go . I was really worried for a litle while that I was gonna loose em to the heat. We weighed the hog after we got back to there camp and he weighed 250 lbs on the money. I dont think I'll be hunting anymore untill it cools off a little. It was still 84F / 28.89C after midnight when we got back to the trucks.




Heres a few pictures .
DeAngelo on the ground overheated and cut .

Mr. Wise pouring water on Recado trying to cool him off.



After they got back on there feet.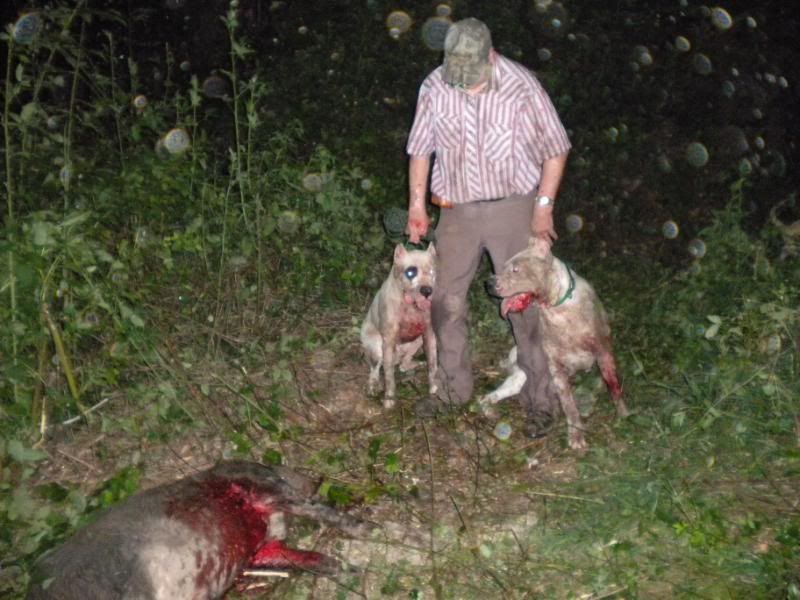 DeAngelo

Mr. Wise and Adrian with DeAngelo and Recado .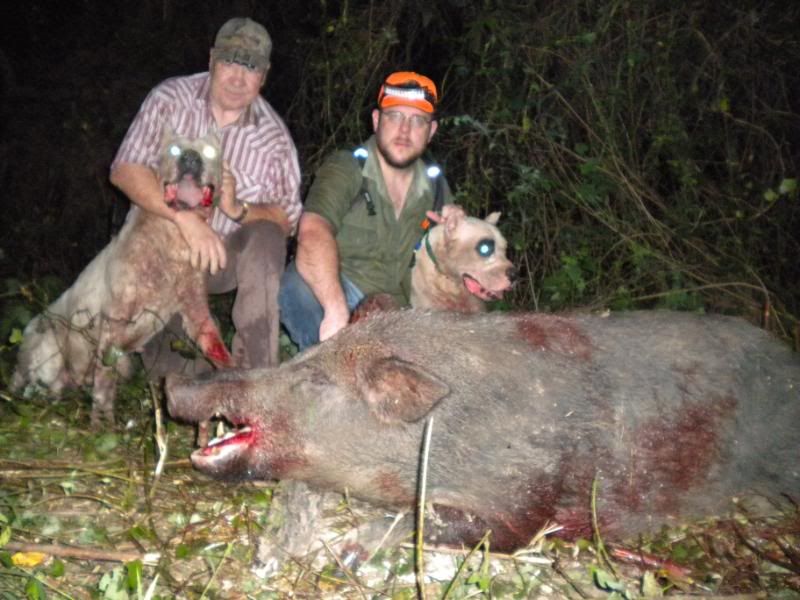 Notice the guy in the green shirt how wet he is with sweat .



On the Fourwheeler.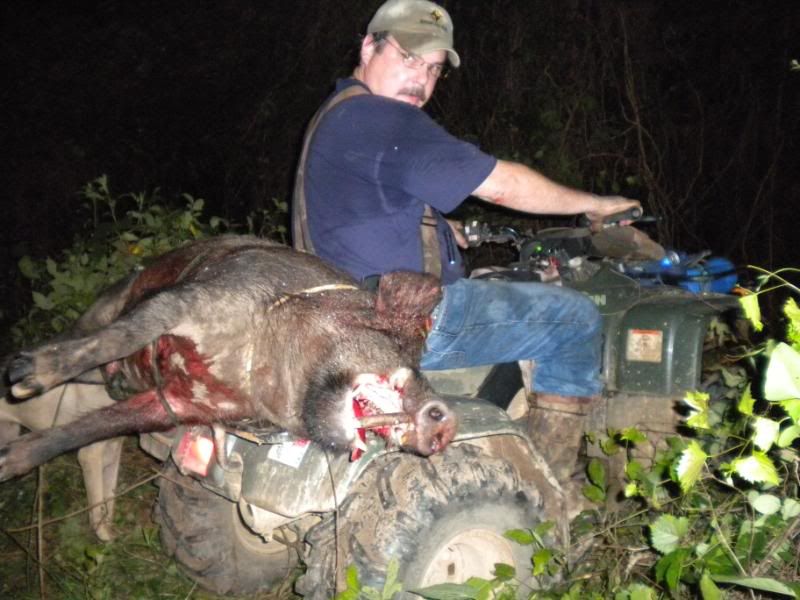 The teeth.