My Sons and I got an invitation from Thre' "Look Fur Em" and Ale "Cajun Chaos" to come done to South Louisiana
for some good ol hog hunting. We arrived Saturday evening and after getting the dogs situated we headed over
to Hershels to look at his Dogo Puppies. And boy do they look GOOD ! ! After visiting with them for a while we
went to town and got a few supplies for out Sunday Morning hunt. Finally got in bed around midnight and back up
at 4 am. We headed out and Meet up with the Property owners and some others Who i cant remember all there
names "sorry" . We were hunting on the Mississippi river near Fort Adams Mississippi. We drove down a long dirt
road until we came up to this little community that looked to be about 200 years old. It was really neat. Only one
store in this community. Anyways we went to the first spot and the water was rising due to the flood that came
during the night. We walked about a mile and Nothing. We headed over to another spot and as soon as we got in
the briar thickets the dogs went CRAZY . We were running Thre's Catahoulas on the ground and they we sing the
sweet song we all like to hear. I turned Recado and Daisy loose from about 400 yards out and we started busting
brush. I was on the four wheeler and the briars were so thick that I was ridding on top of them and mashing em
down. Ale hopped on the back and we got the pretty quick. It was a pretty nice Blond Sow about 180 lbs. We got
her stuck and realized that Daisy and One of Thre's Bay dogs was gone and baying another hog. As we were loading
up this hog and putting Recado back on the 4 wheeler one of the guys was heading to the other bay. We started
making our way to it and we hear a shot so we stop he hollers it went this way . Just a few mins. later we hear the
dog baying again. So i turned Recado loose and Just like a Freight Train Recado went in the Briar Thicket and Sealed
the deal. Thre' and I legged it and let Crystal, The land owners Daughter stick this one. It was a nice Boar about
215 lbs. The guy that Shot said that when he got to the boar, Daisy had it by the ear in an open area and the hog
was spinning her round and round and hitting her with his teeth. When the boar saw him coming he hit daisy and
knocked her off and ran right to the guy. That's when he shot at the hog. So after we stuck it Checked Daisy out
and he vest had about 4 puncture holes in it but only one went all the way through and Daisy got a little poke in
her chest. Thre's curs rolled out again and had another one bayed up in another briar thicket, We cut Recado loose
again and right before he got to em the hog broke and left the country. Recado decided he would go with them so
off he went. Just a few minutes later one of the other curs had a bay going so Thre', Ale, And I start heading that
way with Daisy on lead. Daisy gets there and seals the deal and Thre's friend makes a perfectly placed stick and the
hog is down. It was another sow about 150 lbs. After all the other dogs come back we decided to go back and regroup
and eat a bit of lunch. Got my curs out and made another round and the dogs left out and a little while later Uno comes
back. While we were sitting there waiting to hear from the other dogs Uno started baying about 50 yards from us in
another briar thicket. Turned Recado loose again and he goes crashing in there and we hear a big huff and crash the
hog breaks before he get to him. We never stopped this hog. It was getting late so we left and went back to Thre'
and Cleaned all the hogs got showered up. Hershel invited us over for supper so we went over there. He cooked a
SAUCE PICANTE from the sows he killed last weekend. Man you talk about some fine eating. If yall ever get a chance
to eat Hershels cooking you better take advantage of it. It was FINE. Thanks Hershel. After fellowshipping a while we
went back to Thres and got things ready for another hunt Monday morning. Got in Bed about 1 am back up at 4 am.
This hunt we went to Cat Island Louisiana. We were hunting with one of Thre's friend Will. We caught 2 small pigs right
of the bat. Then hunted for a while and finally one of Thre's curs started barking in another Briar thicket. This time we
had Ale's Dogo, OSO running loose with the curs, Thank goodness. After about 3 barks the hog busted out and ran
across the road we were standin on and the first dog behind him was OSO , you talk about a dog that can fly. Let me
tell you this dog can flat out fly. All the other curs were in hot pursuit and after about a 600 yard race, Oso caught
up with the hog and had him caught. I legged it and let my son Dillion stick it. It was a nice boar about 160 lbs. By
this time it was time to head on back . All in all it was a GREAT weekend . My sons and I had an excellent time and
want to thank Thre' and Ale for having us, Hershel for feeding us and being so kind and understanding for us arriving
late. And all the land owners people that let us hunt on there property. We had a BLAST, Thank you all.

This is the second hog. We were in to big of a hurry to get pictures of the first one. The dogs had another bay going.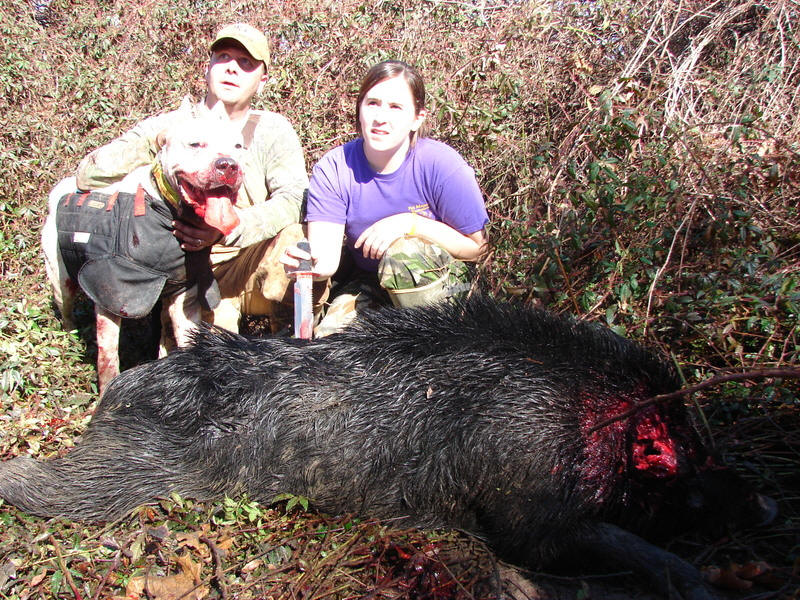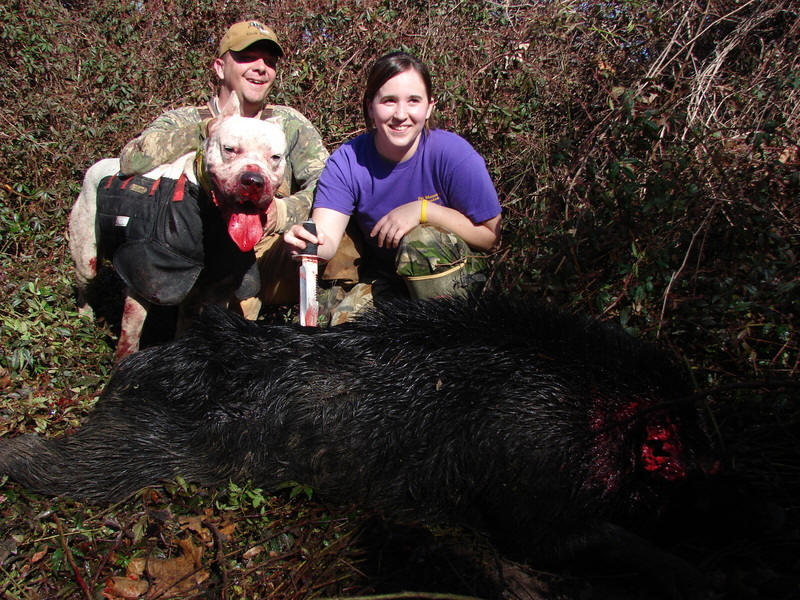 2 Hogs on the back Rack and one on the front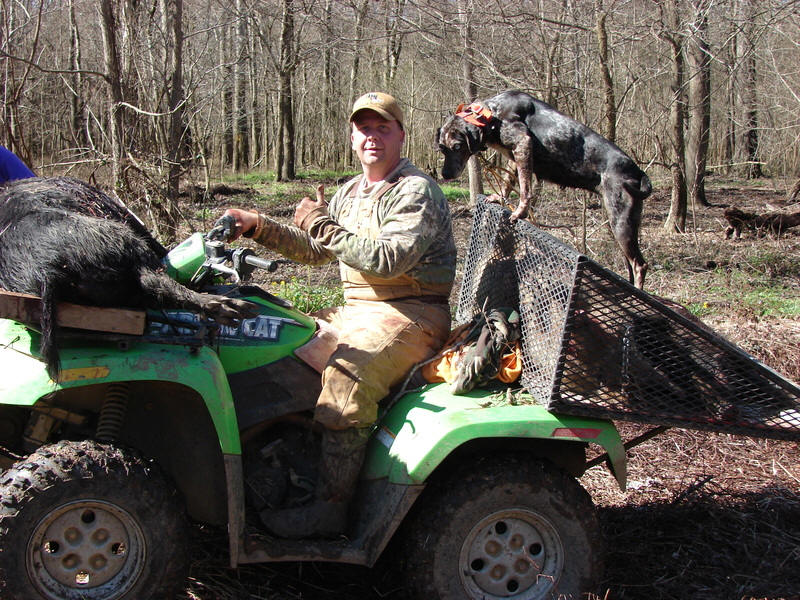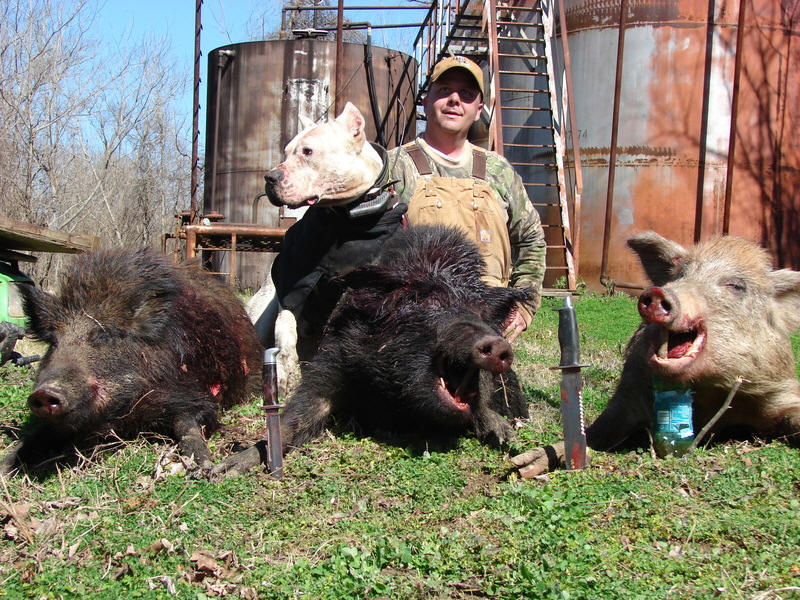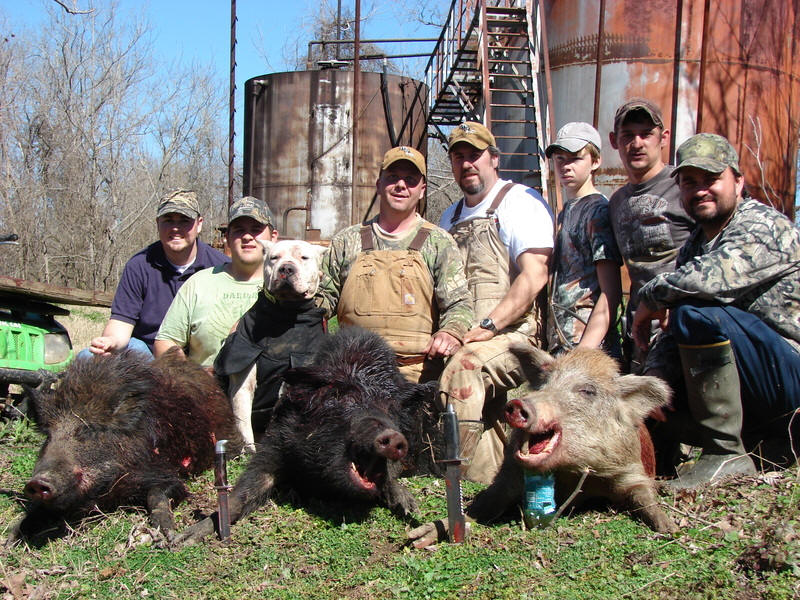 Those Bad A$$ catahoulas of Thre' and Ale's And my 2 Dogos, Daisy, Recado. Thre', Daniel, Ale, and Me

The pile of pork. Notice the nice mane on the first 2. Even on there butts.

Click here to watch a short video of this hunt
Click here to watch another short video of this hunt
Photos from the 2nd hunt.
Dillion sticking the hog. Notice OSO ,The Dogo that ran this hog down and stopped him, on the left ear of the hog. You can see his head due to the cur dog.

The Teeth

Dillion, Will, and Thre'. Oso running on the ground show stopping Dogo

Ale and her Dogo , Oso