Family Hunt 02-06-2006

We went on a family hunt and took my Dad, Robert, and my two boys Daniel 16 and Dillion 13. It started out being pretty slow we saw some sign as soon as we entered the lease and turned the dogs out but no luck.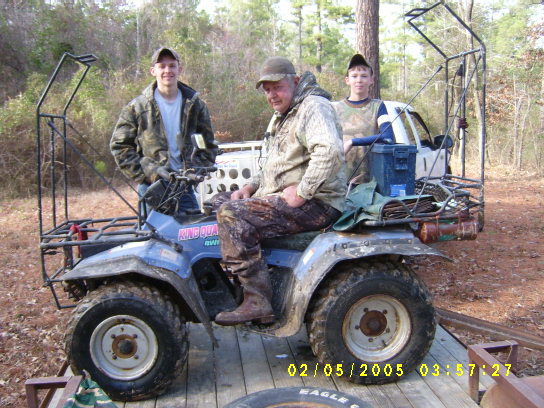 So we rode all the trails and didn't see any more sign for a couple of hours. I only had two dogs on the ground and had Uno on the four wheeler. Both dogs Sadie and Oreo stayed gone for about 30 minutes so I stared tracking them with my tracking system.
Got a little closer and Daniel said he could hear them way off so we stopped and listened. I thought that were on a deer at first because they were covering a lot of ground really fast. Just about that time Daniel said " There's a hog!"
So I turned Uno and my pup loose and they started trailing going the opposite way the hog went. Boy I was pissed , I thought they were back trailing. Then about 1/4 mile away we heard them start baying for just a second so we started going to them. I turned Lacy my catch Dogo loose, while I was turning her loose we heard a grunt and then a squeal. Uno and the pup caught the hog.
Daniel took off running on foot as my dad and I were trying to make it through the woods on the four wheelers. Just as we got there on the four wheelers I saw Daniel leg the hog. This was his first one to leg in the woods by himself. When Dillion, My Dad, and I got there I let Dillion stick it. This was his first one that I let him stick in the woods also.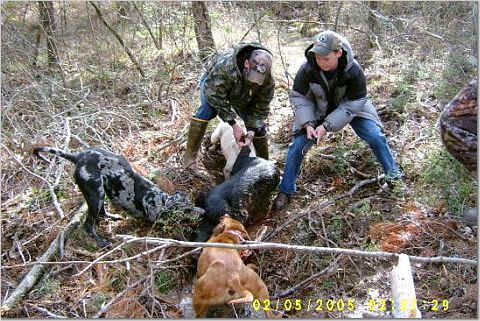 By the time we got the hog stuck and loaded. Sadie and Oreo were gone on again. Finally they came back after about an hour. We loaded up and went home. Put the Hog on the scales and it weighed 120 lbs. All in all it was a good hunt for three generations and memories were made.