12-27-08 Hunt
A friend of mine (Lane) called and asked if I wanted to go hunting since he has been working a lot and hasn't been able to go in a while. Well of course i told him heck yea. There was only one problem and that was a front was blowing through and a thunderstorm was on its way. it was 80 degrees out but after the storm blew through the temp dropped to 49 degrees. He brought his curs and his little pit female that had Jerked one of her canines out on the last hog she caught. He was a little worried she couldn't catch and hold with only 3 canines. I brought my curs and Just my 11 month old Dogo PPC DeAngelo. We jumpped a group of hogs but they took off running and the curs never got them stopped. We rode down the pipeline a little piece to see if we could hear them and Lane jumps off of the 4 wheeler and said 2 big hogs just ran accross in front of him. All we had was The catch dogs so I turned DeAngelo loose and he turned his pit loose. They took off in the woods and about 10 minutes later we saw the hog cross the line again and Deangelo cane out behind it about a minute behind. We caught him up and waited on the rest of the dogs. They finally all came back in except for one of my curs Uno . We were tracking him way off but it was several sloughs between us and him so we had to go back around the way we just came from and go all the way around. When we got to the place we jumped the hogs all of the dogs took back off in the woods. It wasn't but just a minute later they had a bay going. We kicked DeAngelo and Lanes pit loose and took off to em. Lane got there just in time to get to see the catch . im to old , fat, and slow, to get there that fast. He said his pit hit one ear and Deangelo hit the other . Caught hog. Nice boar about 190 lbs with 2 1/2 inch cutters on both side. No dogs hurt . We tied him alive and brought him out and put him in my pen. Here are a few pictures. Didn't have the camera with us at the catch so no action shots. PPC De'Angelo turns one year old on the 11th of January . He has already caught 4 nice hogs in the woods and had an Alligator mouth and doesn't want to let go. Man I am proud of this dog . He is doing GOOD. Thanks Peter and Birgitte
Cell Phone picture. De'Angelo on one ear and Lanes Pit on the other.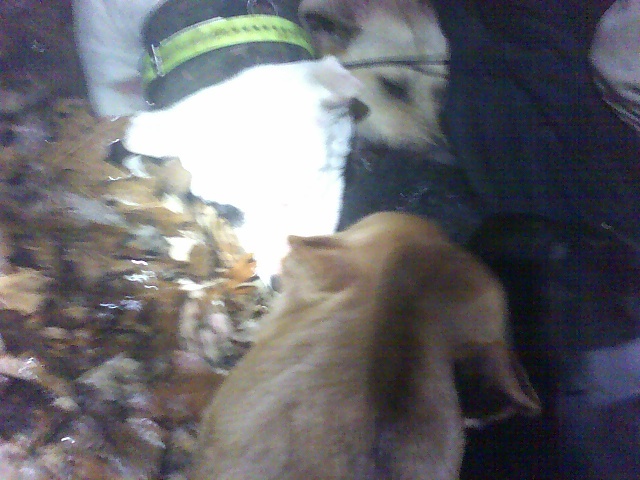 Cell Phone Picture of his teeth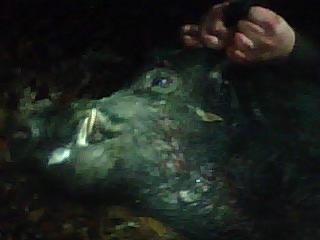 Me Tieing him on the back of the 4 wheeler.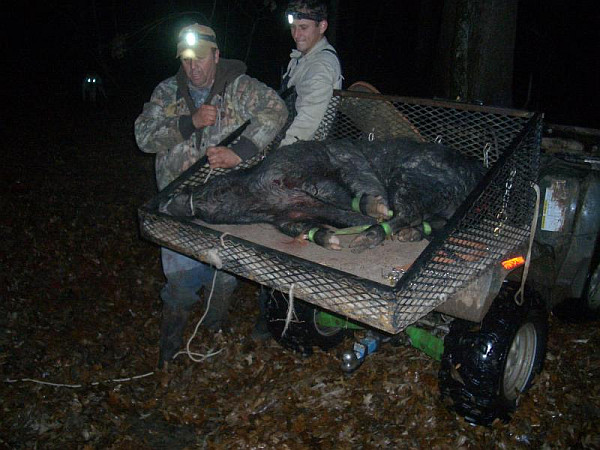 The teeth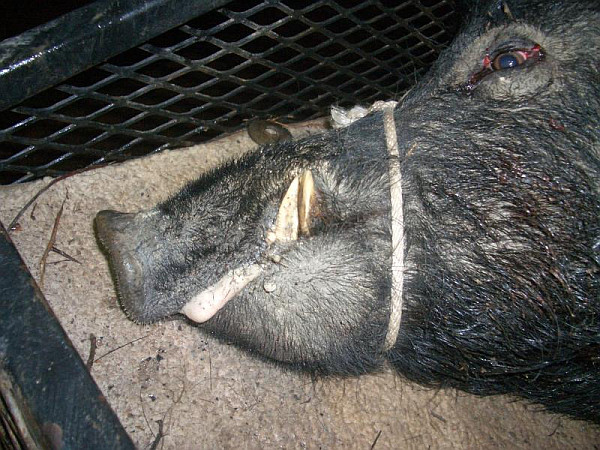 Lane and Tyler

The next morning in the pen at my house along with the boar we caught on the 13th.