10-12-08 Hunt
I finally talked Marty and his wife Nicole into coming over to my place to go hunting this past weekend. Hunted Saturday night and ran hogs ALL NIGHT LONG . Got in at daylight and went to bed. We decided to go again Sunday night and my youngest son, Dillion said he had a friend from school that has been wanting to go and check it out. He had never been hog hunting before. I told him to come on .
We got loaded up and met my father and brother at our hunting lease and dropped the tailgate. The dogs rolled out and after about 20 minutes they came back so we eased on. After about another 30 minutes the dogs struck and split up . We started tracking to em and finally could hear a bay going way off. There was no rodes or any way around to em so we started footing it. We got close enough that Recado could hear em and started pulling on the leash so I turned him loose from a good ways out because my arms looked like hamburger meat from all the briars and thickets. ( I forgot my long sleeve shirt ). We heard the hog start grunting and we knew he was caught. When we finally made it up to him it was a decent boar of about 185 - 190 lbs. I leggeed it and we let my sons friend ( Chad ) stick it. It was his first ever hog hunt and stick. He was pretty excited. He said that was a a pretty good adrinaline rush.
Cur dogs on this hog were Sadie and a new dog of Martys , Little Man, . It was only his 3rd time to be in the woods on hogs. They stuck with this hog for about a mile from where they jumped him.
After everything got quit we heard another bay going so we headed that way and got close enough to let Recado to em and just as we turned him loose the hog broke and another race was on. No hog at the end after about another hour . It was a fun hunt with friends and family and i think we got another youngster HOOKED. They were good help with the dogs and hog too.
Me and Marty tracking and listening for the dogs.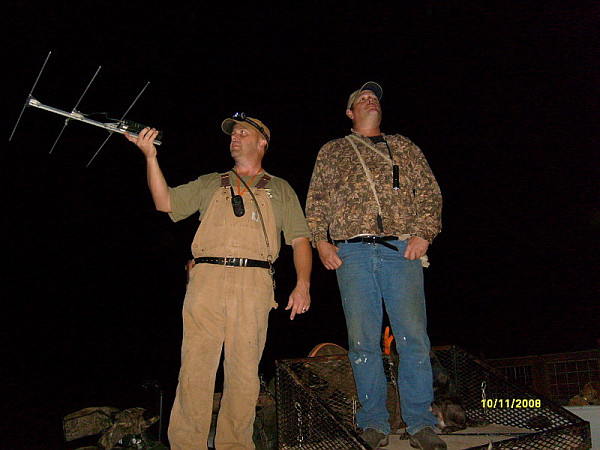 Dillion and Chad . Chad is the one with the initiation blood on his face .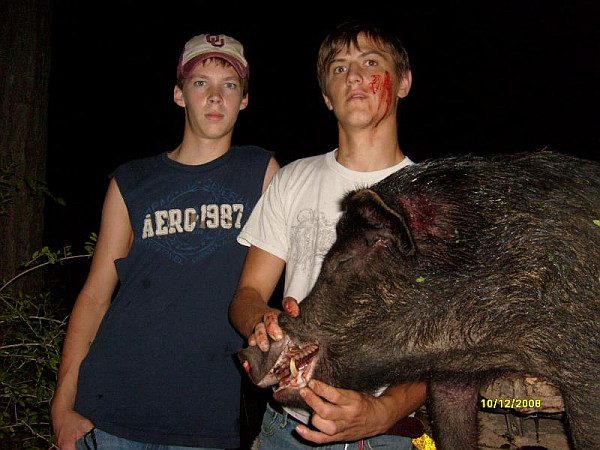 Chad , Nichole, and Me .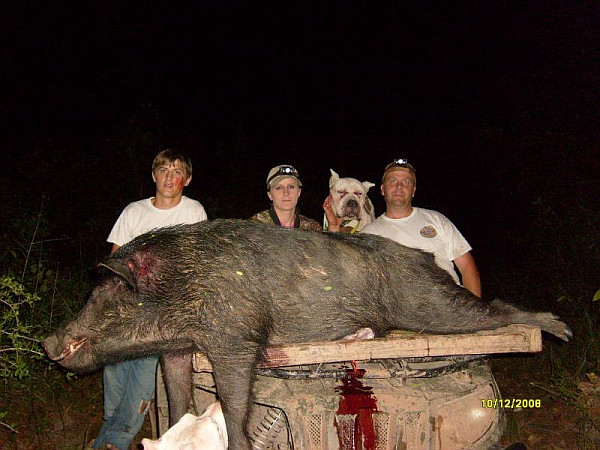 Chad, Marty, Dillion, and Me